10 Spiders Named After Celebrities
Every year approximately 15,000 newly discovered animals, plants, insects, and other living things are named. A few of these discoveries have been given the distinction of being named after someone famous. In fact, I would dare to say you haven't fully reached celebrity status until you've had something named after you.
As a bug guy, I believe one of the coolest honors bestowed upon you, is to have a spider named after you. Here are ten famous people who have reached celebrity status by having a spider named after them:
1. President Barack Obama
Photo By Jason Bond
Being the president of the most powerful country in the world has it perks, including getting a spider named after you. After discovering 33 new species of spiders in the Southwestern United States in 2012, researches have named one after President Barack Obama. The newly discovered species, which bears the commander in chief's name, is called Aptostichus barackobamai. The Obama spider is considered a trapdoor spider, because it protects its burrow with silk-spun trapdoor.
2. Harrison Ford
http://3.bp.blogspot.com/
After narrating a documentary for the London Museum of Natural History in 1994, Indiana Jones himself (Ford) had a spider named after him. The Calponia harrisonfordi spider was discovered in 1993. Much like most Hollywood actors, it is tiny, (around 5 millimeters in length), and lives in California. Ford also has an ant species named after him.
3. Bono
Photo courtesy of: theopolitical.files.wordpress.com
Aptostichus bonoi, a spider that lives in Joshua Tree National Park in California, is named after U2 band member Bono. The Joshua Tree, arguably U2's best and most popular album, was released March 9, 1987.
4. Dave Mustaine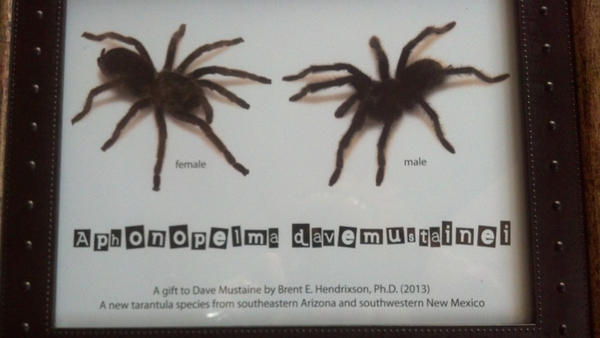 Photo courtesy of Twitter
Dave Mustaine, of Megadeth fame, had a tarantula named after him in 2012. The Aphonopelma davemustainei was found in Southwestern Arizona.
5. David Bowie
http://i.telegraph.co.uk/multimedia/archive/01476/bowie_1476453c.jpg
A rare yellow spider found in Malaysia, the Heteropoda davidbowie, was named after rock star David Bowie in 2009, in an effort to raise awareness about the number of arachnid species threatened with extinction.
6. Stephen Colbert
Photo Courtesy of: mimg.ugo.com/200807/5540/colbertspider.jpg
The Aptostichus stephencolberti – the final "T" will be silent, as it is in Colbert's name – is a trapdoor species of spider discovered along the California coast back in 2007. The spider was named by Jason Bond, who also named the Obama Trapdoor Spider.
7. Angelina Jolie
http://www.thevine.com.au/resources/IMGRELATED/angelinajolie_100112010603.jpg
The Aptostichus angelinajolieae is a species of trapdoor spider named after Angelina; star of the upcoming film Maleficent. The spider is found on the coastal dunes of Northern California, and is very similar to the spider named after the above listed Stephen Colbert spider.
8. Penn Jillette
Photo courtesy of Twitter
Penn Jillette, of Penn and Teller fame, announced via Twitter back in November that a newly discovered spider would be named after him. The Aptostichus pennjillettei or Atomic Penn Jillette Spider is a trap door spider in found in Nevada where Penn frequently performs.
9. Nelson Mandela
http://2.bp.blogspot.com/_LbccUVbSRd8/S9brgPYxdXI/AAAAAAAAGkY/1aMkX5SQiKI/s1600/mandela-spider.jpg
Who better to name a South African spider after than the former president of South Africa, and anti-apartheid icon, Nelson Mandela? The Singafrotypa mandela spider joins the list of things named after Mandela including: a nuclear particle, an American rescue dog, a tree, several sub-groups of flower, numerous race horses and a woodpecker fossil.
10. Neil Young
http://a57.foxnews.com/www.foxnews.com/images/369806/450/350/1_21_neil_young_spider.jpg
Musicians seem to dominate our list of famous people that have had spiders named after them. This is because of one Jason Bond, a professor at ECU, who frequently names insects and spiders after things he enjoys. Such is the case for the Myrmekiaphila neilyoungi, named after Neil Young because Bond loves his music.
If you live in Tulsa, OK and are seeing spiders in and around your home, get Tulsa pest control. A Tulsa exterminator can help eradicate those dangerous Brown Recluse and Black Widow spiders. Call today!
Bulwark Exterminating
507 S Main St # 201
Tulsa, OK 74103
(918) 582-2629
bulwarkpestcontrol.com
OK Wildlife Control
Tulsa, OK
(918) 739-4382
oklahomawildlifecontrol.com
Orkin
6550 East 40th Street
Tulsa, OK 74145
(918) 622-0800
orkin.com
Related articles
Tags:
Angelina Jolie
,
Barack Obama
,
Black Widow
,
Black Widow Spider
,
Bono
,
Brown Recluse
,
Brown Recluse Spider
,
Bulwark Exterminating
,
Bulwark Pest Control
,
California
,
Dave Mustaine
,
David Bowie
,
Harrison Ford
,
Hollywood
,
Jason Bond
,
Joshua Tree National Park
,
Megadeath
,
Neil Young
,
Nelson Mandela
,
Penn and Teller
,
Penn Jillette
,
President Barack Obama
,
South Africa
,
Spider
,
Spider Control
,
Spiders
,
Stephen Colbert
,
Tulsa
,
Tulsa Exterminator
,
Tulsa OK
,
Tulsa Pest Control
,
Twitter
,
U2
January 11, 2013 - 9:02 PM
Comment (1)